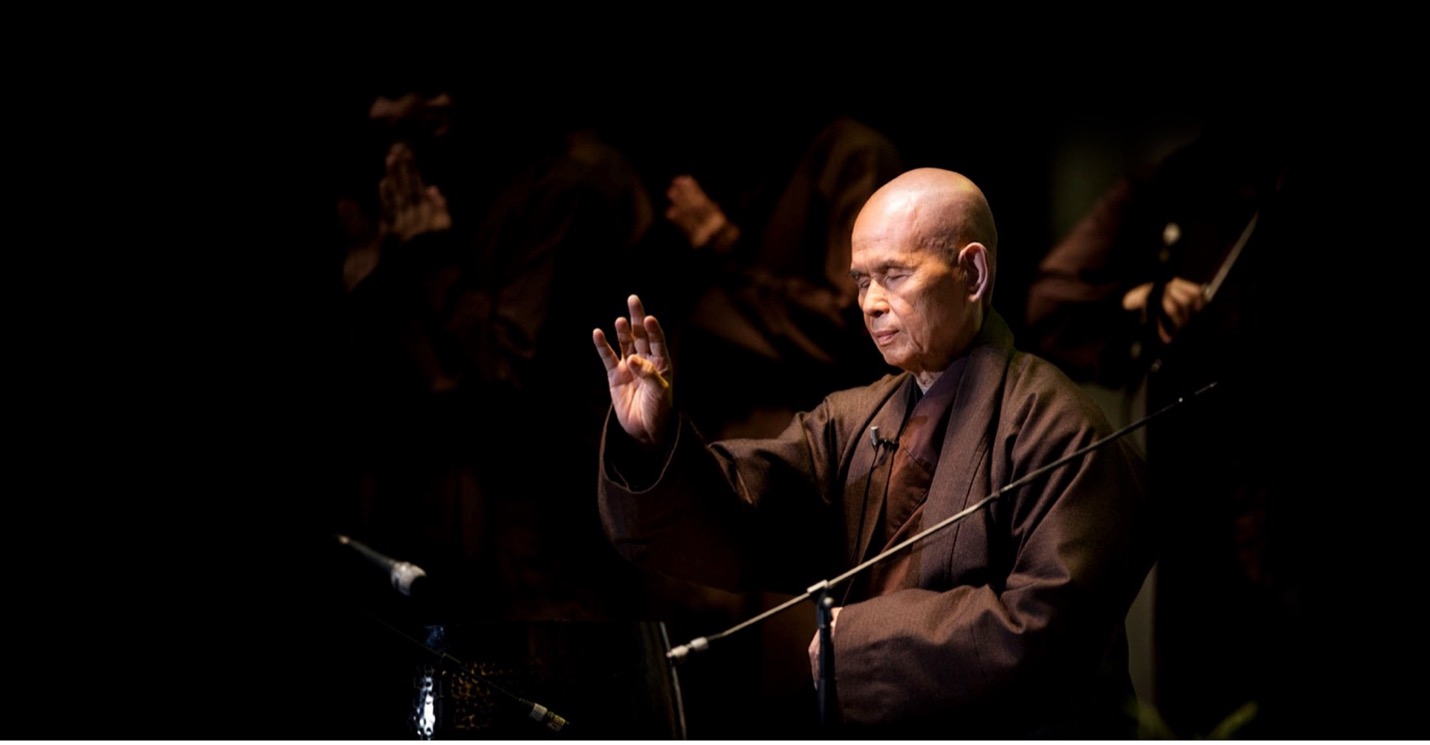 Our Beloved Teacher Thich Nhat Hanh (Thầy) has passed away peacefully at Tu Hieu Temple in Hue, Vietnam, on 22nd January, 2022, at the age of 95.
Thầy had a long connection with Hong Kong. He had his first visit to Hong Kong back at 1966 and then came to Hong Kong for retreats and teaching tours for five times in the years 2001, 2002, 2007, 2010 and 2013. In Thầy's last visit to Hong Kong, Thầy gave a public talk at the Hong Kong Coliseum for 10,000 people. He had briefly stayed in the Po Lin Monastery and the Lotus Pond Temple at Ngong Ping, Lantau Island before.
We would like to invite you to join the Hong Kong sangha for a 7-day memorial services and practice at your own convenient time or follow our live-streams of ceremony sessions from Lotus Pond Temple with the following schedule. You are also invited to pay tribute to Thầy in person at the LOTUS POND TEMPLE, Ngong Ping, Lantau Island during the 7 days from 09:00 to 16:00.
Ceremonies will also be hosted by our monasteries in Asia, Europe, and the US. Please refer to the Plum Village International website for more details.
The following is the memorial services for continuing Thầy in the Here and Now.
DAY 1: 23 January (Sunday)
Time
Memorial Activity
08:45
Gather at Buddha Hall for sitting meditation
09:00
Ceremony for laying Thầy's body in the casket – Live from Vietnam
Walking meditation before lunch if time permitted
13:45
Gather at Buddha Hall
14:00
Ceremony for inviting the Enlightened Spirit to settle and for Receiving the Memorial Patches (small yellow squares we will pin to our chests)
16:30
Ceremony of Offering and Paying Respects to the Enlightened Spirit of the Most Venerable Zen Master
19:30
Guided sitting and chanting (English)
DAY 2: 24 January (Monday)
| Time | Memorial Activity |
| --- | --- |
| 05:00 | Wake Up |
| 05:30 | 5MT Recitation |
| 06:30 | Walking Meditation |
| 09:00 | Offering and Paying Respects to the Most Venerable Zen Master |
| 10:30 | Walking meditation for our guests |
| 11:00 | Procession of Representatives Offering Respect and Prayers to the Deceased |
| 14:30 | Offering and Paying Respects to the Most Venerable Zen Master |
| 15:00 | Walking meditation for our guests |
| 16:00 | Watching the documentary of Thầy |
| 19:30 | Guided Sitting and chanting (English) |
DAY 3: 25 January (Tuesday)
| Time | Memorial Activity |
| --- | --- |
| 05:00 | Wake Up |
| 05:30 | Sitting and Chanting (English) |
| 06:30 | Walking Meditation |
| 09:00 | Offering and Paying Respects to the Most Venerable Zen Master |
| 10:30 | Walking meditation for our guests |
| 11:00 | Procession of Representatives Offering Respect and Prayers to the Deceased |
| 14:30 | Offering and Paying Respects to the Most Venerable Zen Master |
| 15:00 | Walking meditation for our guests |
| 16:00 | Watching the documentary of Thầy |
| 19:30 | Guided Sitting and Three Touching the Earth (English & Cantonese) |
DAY 4: 26 January (Wednesday)
| Time | Memorial Activity |
| --- | --- |
| 05:00 | Wake Up |
| 05:30 | 14MT Recitation |
| 06:30 | Walking Meditation |
| 09:00 | Offering and Paying Respects to the Most Venerable Zen Master |
| 10:30 | Walking meditation for our guests |
| 11:00 | Procession of Representatives Offering Respect and Prayers to the Deceased |
| 14:30 | Offering and Paying Respects to the Most Venerable Zen Master |
| 15:00 | Walking meditation for our guests |
| 16:00 | Watching the documentary of Thầy |
| 19:30 | Guided Sitting and Reading: An excerpt of one of Thầy's Letter to his student (English) |
DAY 5: 27 January (Thursday)
| Time | Memorial Activity |
| --- | --- |
| 05:00 | Wake Up |
| 05:30 | Sitting & Chanting (English) |
| 06:30 | Walking Meditation |
| 09:00 | Offering and Paying Respects to the Most Venerable Zen Master |
| 10:30 | Walking meditation for our guests |
| 11:00 | Procession of Representatives Offering Respect and Prayers to the Deceased |
| 14:30 | Offering and Paying Respects to the Most Venerable Zen Master |
| 15:00 | Walking meditation for our guests |
| 16:00 | Watching the documentary of Thầy |
| 19:30 | Guided Sitting and Dharma Sharing |
DAY 6: 28 January (Friday)
| Time | Memorial Activity |
| --- | --- |
| 05:00 | Wake Up |
| 05:30 | Sitting and Chanting (English) |
| 06:30 | Walking Meditation |
| 09:00 | Offering and Paying Respects to the Most Venerable Zen Master |
| 10:30 | Walking meditation for our guests |
| 11:00 | Procession of Representatives Offering Respect and Prayers to the Deceased |
| 14:30 | Offering and Paying Respects to the Most Venerable Zen Master |
| 15:00 | Walking meditation for our guests |
| 16:00 | Watching the documentary of Thầy |
| 19:30 | Guided Sitting and Walking meditation with candles to Thầy's hut |
DAY 7: 29 January (Saturday)
Time
Memorial Activity
07:30
Gather at Buddha Hall
08:00
Farewell and Release Ceremony, including:
– Announcing briefly the biography of the Senior Head and Abbot of the Compassionate Filial Piety Monastery Zen Master whose first name is Nhat and whose second name is Hanh
– Words of Gratitude from the Organizing Team and Disciples Ceremony of Blessing the Coffin
– Ceremony of Accompanying the Coffin to the crematorium
– Ceremony of Cremation