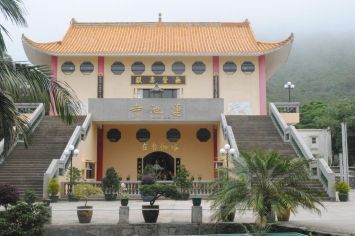 During his 4th teaching trip to Hong Kong in November 2010, in a retreat for more than 1400 people at Wu Kai Sha Youth Village in Shatin, Zen Master Thich Nhat Hanh (Thầy) proposed that an Applied Buddhism Institute be established in Asia, which would help bring the applied and relevant aspects of Buddhism to the people of Asia. The Asian Institute of Applied Buddhism (AIAB) will promote the teachings and the practices of Buddhism that help people to get in touch with the peace and joy within themselves, to dwell in the present moment, to heal and to transform sufferings. This can be done through the practice of mindfulness – with our mindful breaths and mindful steps – to get in touch with the miracles of life. The proposal was widely received by the participants at the retreat. The seeds to establish the Asian Institute of Applied Buddhism were sown.
| | |
| --- | --- |
| Dr. Yeung and Mrs. Yeung (on both sides of Thay) received the Heart Sutra Calligraphy from Thay | Thay and children bath the baby Buddha at the Vesak Ceremony |
| | |
| Lotus Pond Temple | Bamboo Forest Monastery |
This proposal was discussed in a meeting on Nov. 9 2011 between Thầy and Dr. Charles Yeung, Chairman of the Glorious Sun Group and a sponsor of the 2010 Trip. Besides being a successful businessman, Dr. Charles Yeung is also a Buddhist practitioner and an active supporter of Buddhist activities in Hong Kong. Also presented in the meeting were Ven. Chan Khong, Ven. Chan Phap An, and Ven. Chan Phap Kham (senior disciples of Zen Master Nhat Hanh); Professor C.F Lee, Ven. Jing Yen, and Ven. Hin Hung (of the Hong Kong University Center of Buddhist Studies). AIAB would be a center of Applied Buddhism Studies and Practices, with a resident monastic Sangha as the core element. An initial monastic Sangha consists of 10 monks and 20 nuns would be formed, to offer the teachings and to lead the practices. AIAB will train monastic and lay Dharma Teachers to help meet the growing demand for mindfulness practices in Hong Kong, in Asia and in other parts of the world. AIAB will hold retreats for young people, people and professionals in the field of education, social works, health care, business, etc to help them rest, to release tensions in body and mind, to deal with stress and other obstacles in life, and to reconcile difficulties in personal, family and professional relationships. Dr. Charles Yeung expressed support for this proposal and suggested that he could help to arrange for Plum Village to use Lotus Pond Temple and Bamboo Forest Monastery in Ngong Ping, Lantau Island as the place to start AIAB. On November 13, 2010, Thầy and a Plum Village monastic delegation visited the two temples, which was within walking distance of each other. It is interesting to know that Thay had visited this area more than forty years ago (in 1968) and had held one retreat at Lotus Pond Temple in his 2001 Hong Kong teaching trip. It seems causes and conditions are sufficient for Plum Village to set up activities in these temples.
Thầy and the Plum Village Sangha returned to Hong Kong from April 25 to May 11, 2011. The trip to Hong Kong was not pre-planned. Thầy was supposed to lead a teaching trip to Japan during that time, after leading teaching trips to Thailand and Taiwan from March 23 to April 24. However, because of the Tsunami in March 2011, the Japan trip was changed to Hong Kong. During this stay, Thầy inaugurated activities at AIAB, giving his Dharma talk on April 28 and holding the first Day of Mindfulness on May 1st. On the May 1st Day of Mindfulness, Dr. Charles Yeung officially announced his support for Thầy and the Plum Village International Monastic Sangha in Hong Kong by arranging for the use of the two temples and by offering financial supports to cover accommodation expenses for the resident monastics and operating expenses of AIAB. Dr. Charles Yeung made the offering by pouring water's into Thầy's hands. The offering was made in the same tradition that King Bimbisara of Magadha made to the Buddha about 2600 years ago, when he offered his Bamboo Grove to the Buddha to establish the first Buddhist Monastery in the world. A second day of Mindfulness was held on May 8 with more than 300 people attended. The Vesak Ceremony celebrating the Buddha's birth day was also held on this day.
After Thầy and the Plum Village International Monastic Sangha left Hong Kong, the resident monastics prepared for its first rain retreat at AIAB, which last for 90 days from May 22 to August 17, 2011. As of June 2011, fourteen monastics (6 monks and 8 nuns) reside and practice at AIAB.