Thich Nhat Hanh – Monastic Path of Service
In the Plum Village monastic communities there are monks and nuns from many different countries including France, England, The Netherlands, Germany, Italy, Spain, Vietnam, Cambodia, Laos, Thailand, Indonesia, India, Canada, Sweden, Portugal, USA, and Australia. There is also a wide variety of ages, from age 15 to 79, though most of the monastics are in their 20's and 30's. Though our monastic Sangha represents many countries, we are predominantly a Vietnamese community from a Vietnamese Buddhist tradition. To become a monastic in our community requires openness and the ability to embrace cultural diversity. The communal languages are Vietnamese, English, and French. So, one must be fluent in at least one of these languages.
Requirements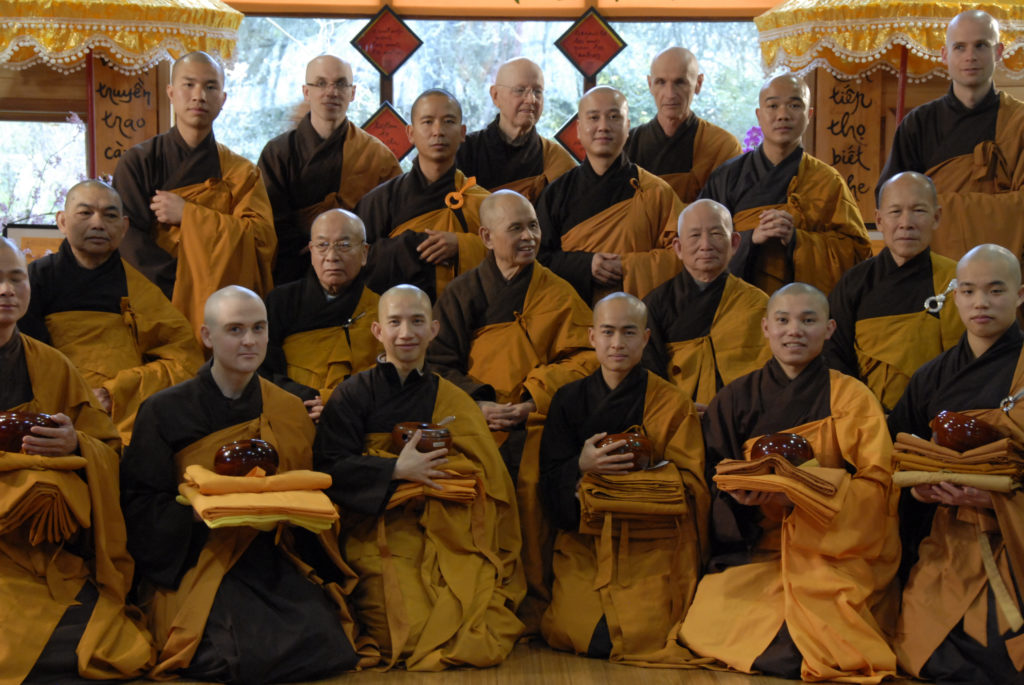 Those with a sincere aspiration to cultivate understanding and compassion as their only career, are welcome to join our monastic community. You would live, learn, and practice in one of our monasteries in Europe, America, or Asia. Our growing Sangha presently numbers over 700 monastics spread out among these three continents.
All applicants must be under 50 years of age. No academic degree is required. If you are under 18, you must have permission from your parents. Those who have serious or terminal illnesses or severe disabilities can not be accepted as monastics. Monks and nuns in the Plum Village tradition are celibate and make a life-long commitment to the community. They live, practice, and teach as a community and not as individuals. There is a three-year novitiate before full ordination as a monk or nun (bhikshu or bhikshuni).
If you are interested about the life of monastics sangha, please come visit us in our Day of Mindfulness or contact us.
You could also visit Plum Village website to learn more about becoming a monastic.