Asian Institute of Applied Buddhism (AIAB)
Lotus Pond Temple, Ngong Ping
Lantau Island, Hong Kong
Transportation
From Tung Chung to Ngong Ping
By Bus
23 Air-cond. bus: Tung Chung Town Center – Ngong Ping (Po Lin Monastery)
By Taxi
There are only 50 blue taxis in Lantau. You may need to reserve one in advance by calling Lantau Taxi Association at 2984-1328.
By Cable Car (Ngong Ping 360)
The cable car operates from 10:00 AM to 6:00 PM daily, weather permitting. For details, refer to their website.
From Hong Kong International Airport (Chek Lap Kok Airport)
Take blue Lantau Taxi to Lotus Pond Temple. Please ask the driver for the approximately fee before jump into the taxi. You can also take an airport shuttle bus to Tung Chung then take bus 23 to Ngong Ping (refer to the above instructions).
From Ngong Ping to AIAB
After arriving Ngong Ping bus terminus, you will find a big white gateway in front of you. The Big Buddha is on your right-hand side. Please take the left side. You will pass by a small restaurant and reach a crossroads. Please take your left-hand side road. You will find a small wooden sign with Lotus Pond Temple in Chinese 「蓮池寺」. Total walking time is less 10 minutes. Please see the map below.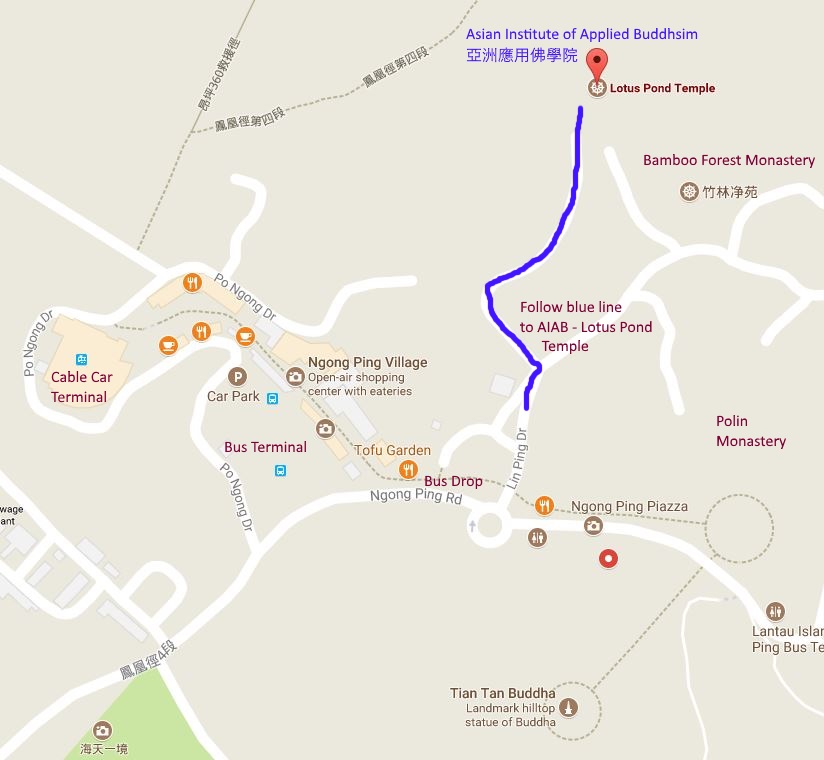 Friendly Reminders
Please dress in a respectful manner as this is a monastery. Please do not wear shorts or tank tops (singlets), or V-neck shirts. Loose attire is preferred and the most comfortable for sitting meditation. We will also feel more at ease around the monastic brothers and sisters.
The weather on the mountain changes every moment. The temperature in the mountain is 5°C to 6°C lower than in town. If you stay with us, please bring additional clothing, sun blocks, umbrella, insect repellent… based on your needs.