Rain of Compassion Sangha
| | |
| --- | --- |
| TNH Calligraphy – Tear (English) | TNH Calligraphy – Tear (Chinese) |
The name Rain of Compassion Sangha was named by Thầy Phap Kham who was inspired by Thầy's calligraphy: "The tear I shed yesterday has become rain." Thầy Phap Kham thought that a rain of compassion would embrace and transform sufferings, and it would fall onto all people in Hong Kong. In 2007, Zen Master Thich Nhat Hanh and the international Sangha were invited to Hong Kong. Rain of Compassion Sangha officially established.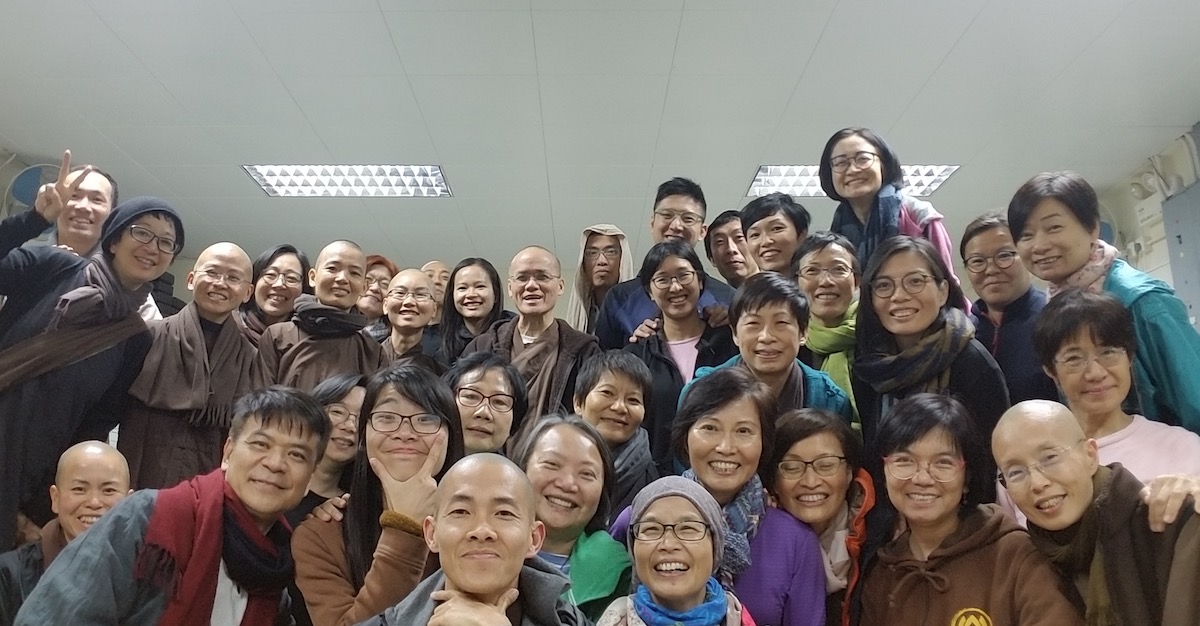 At the beginning, the Rain of Compassion Sangha was small, and is consisted of long-time members who later helped found other sanghas, such as Wake Up Hong Kong, and later joined the Order of Interbeing (OI).
Wake Up Hong Kong Sangha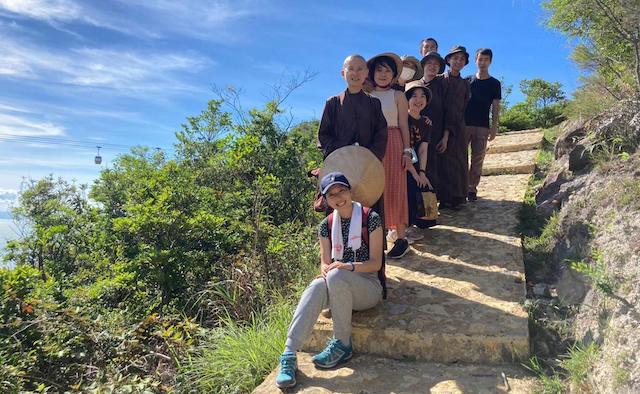 Wake Up Hong Kong is a community of young people, aged 18-35, who are inspired by the teachings and practices taught by Zen Master Thich Nhat Hanh and Plum Village Hong Kong Sangha. We come together to practice mindful living in order to nourish peace and happiness within ourselves and contribute to a healthy and compassionate society.
No matter if we are Buddhists, together we practise living an awakened life with understanding and compassion.
Golden Moment Sangha
| | |
| --- | --- |
| Golden boys and girls in front of the EIAB main entrance, 2017 | Golden boys and girls having a time-limited ordination in EIAB, 2019 |
Born out of a casual lunch meeting between two monks and two lay persons in 2015, the Golden Moment Sangha offers a fresh opportunity to the lay people in the "golden stage" of their lives to learn to look inwards. It is a chance to tap their experience and wisdom and live more deeply and meaningfully, as well as to develop a right view to embrace the challenges of aging and death.
Modern societies don't often treasure the aging process. However, virtually every country in the world is seeing a sharp rise in the share of older people in their population. Money is thrown at industries every year to come up with a so-called "elixir of youth" to help people to put off aging for as long as possible.
However, learning to surrender gracefully to aging – and eventually death – requires a community or platform of spiritual support. We are doing just that in international Plum Villages around the world, monastic and mature lay people, comes together to explore a contemplative approach to growing old.
With the supports from Thay Phap An, Thay Phap Kham, and the Plum Village monastic, the first Plum Village Golden Moment sangha was established in Hong Kong in 2015.
Retreats have been held annually in Hong Kong, Germany, France and Thailand since 2016. Participants can join the monastic Sangha for spiritual practices, which includes learning to return to ourselves and dwell in the present moment. In today's chaotic world, contemplative practices offered by the "Golden Moment Sangha" can help us to develop the psychological strength to roll with the flow of life in our golden years.