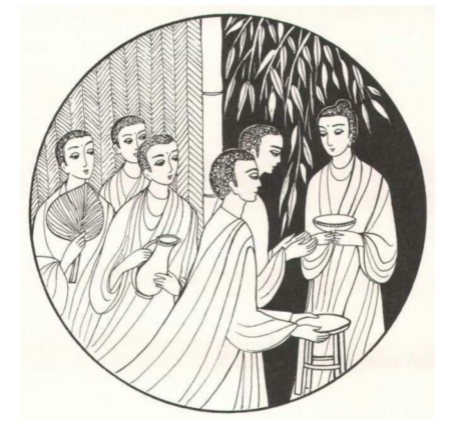 Dear Sangha members,
It is with great joy to inform you that the long-awaited Pilgrimage to India, planned to happen after the finishing of the Old Path White Clouds class (April 2019 – July 2021), is finally manifested. During that 2-years waiting period, we have continued to study in the Applied Buddhism class. More Sangha members joined the class, and thus more members can join the  Old Path White Clouds Pilgrimage.
After the first year of the Buddha's teaching life, the Sangha grew to a community of 1,000 monks. Under the suggestion of Ven. Uruvela Kassapa, the Buddha and the Sangha decided to move to Rajagaha (present day Rajgir). Forty groups of 25 monastics were formed, each group was led by a more experienced monk, to take the walk from Uruvela  to Rajagaha. Along the way, the Buddha and the Sangha did alms rounds, gave teachings, practicing and living together. It was like a mobile monastery. The walk took ten days.
In this pilgrimage, we will travel with the same practice spirit. There will be about 10 groups of 20 Sangha members, plus two monastics to guide each group. We will travel as a family with each group for the entire trip. We will have daily mindfulness practices, dharma talks in big group and small groups, groups sharing, opportunities to get in touch with local life and cultures and to visit places that the Buddha and the Sangha lived. We live and practice as a Sangha like in the Buddha time. Because of the time limit and to fully experience the trip, the visiting places will be concentrated on and nearby areas of Varanasi (Deer Park, where the Buddha gave the first teaching), Bodhgaya (where the Buddha enlightened), and Rajgir (Bamboo Forest Monastery, Nalanda University, Vulture Peak).
Please see tentative itinerary of the trip, cost and details of the trip in the attached documents. The logistic of organizing of this trip is taken care by lay Sangha member Le Thi My Hang, who has organized several similar trips like this before.
The monastics are looking forward to seeing and joining you in this pilgrimage.
Peace is every step,
Bhikkhu Thich Chan Phap Kham
On behalf of the PV monastics on the Old Path White Clouds 2024 Pilgrimage
---
Trip Information
Tentative Itinerary
Date
Description
Place of Stay
Day 1 (25 Feb) Delhi
Arrive in Delhi, check in hotel and rest.
ITC WELCOME DWARKA HOTEL
Day 2 (26 Feb) Delhi – Varanasi
Have breakfast at Hotel
Fly to Vanarasi
General Orientation and Join Trip Family
THE CLARKS
Day 3 (27 Feb) Varanasi
Dawn on the Ganges
Morning : Dharma talk on Ganges civilization, Indian culture and overview of Buddha's lifeAfternoon : Group Sharing
THE CLARKS
Day 4 (28 Feb) Varanasi
Deer Park in the morning – Dharma talk about Deer Park

Afternoon : Group Sharing

Sunset on the Ganges

THE CLARKS
Day 5 (29 Feb) Varanasi
Museum in the morning

Afternoon: free activities with family

Evening: be-in. Summarizing the Varanasi segment.

THE CLARKS
Day 6 (1 Mar) Varanasi – Bodhgaya
After breakfast, check out and go to Bodhgaya by bus (6 hours)

Check in and rest

Group activities at Bodh Gaya

Dinner at the hotel

BODHGAYA REGENCY
Day 7 (2 Mar) Bodhgaya
Morning practice at Bodh Gaya

Back to hotel for breakfast – Dharma talk about Bodh Gaya

Afternoon visit to Niranjana river and Sujata village

Dinner at the hotel and family activities

BODHGAYA REGENCY
Day 8 (3 Mar) Bodhgaya
Breakfast at Hotel

Hiking combined with visiting Khong Hanh Lam

Afternoon activities with family

Evening be-in summarizing the Bodhgaya journey

BODHGAYA REGENCY
Day 9 (4 Mar) Bodhgaya – Rajgir
Breakfast and check out

Bus Ride to Rajgir

Check in and rest

Sunset on Linh Thuu mountain

Evening: Family sharing

INDO HOKKE
Day 10 (5 Mar)

ĐH Nalanda

Have breakfast at Hotel

Visiting Nalanda University

Lunch and rest

Evening Dharma talks and family talks

INDO HOKKE
Day 11 (6 Mar)

Núi Linh Thứu

Early Morning on Vulture Peak mountain, the precept ceremony and cutting hair ceremony (for those would like to experience the monastic spirit at Vulture Peak)

Visiting Peace Tower

Afternoon activities with family

Evening Dharma Talks – Big group

INDO HOKKE
Day 12 (7 Mar)

Tu viện Trúc Lâm

Sunrise on Linh Thuu mountain, drinking tea and watching the sunrise with the family

Breakfast at hotel and Dharma talk about Truc Lam Monastery

Afternoon visit Truc Lam Monastery, walking meditation and Dharma talk with family

Evening be-in summarizing

INDO HOKKE
Day 13 (8 Mar) Patna – Delhi
Have breakfast at Hotel

Depart for Patna for flight to Delhi Rest

ITC WELCOME DWARKA HOTEL
Day 14 (9 Mar) Delhi
Free to visit and shop

Be-in summarizes the trip, goodbye

ITC WELCOME DWARKA HOTEL
Day 15 (10 Mar)
Depart from New Delhi
Home sweet home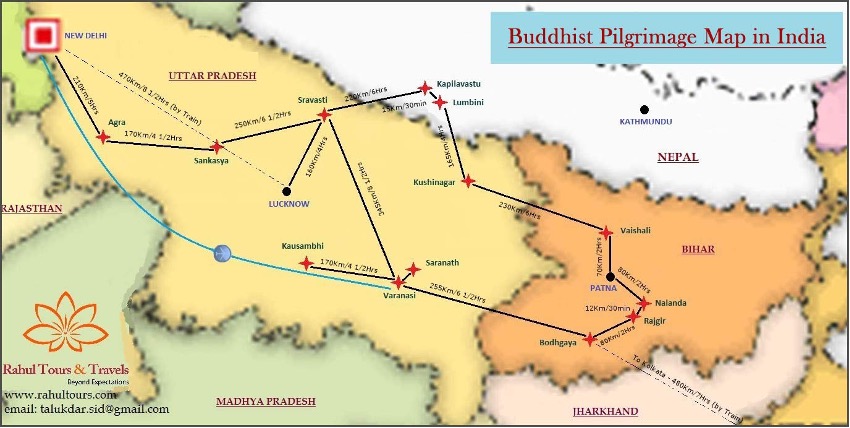 Tour Fee: USD1,900 per person
Fees include travel in India (car and 2 domestic flights), entrance fees to monuments, all meals, bottled water, accommodation arrangements for the duration of the pilgrimage, tippings for driver and local guide (USD5/person/day)
Fees do not include international airfare to and from Delhi, Indian visa, travel insurance and any extra days spent within India beyond the number of days of the pilgrimage, over kilograms of baggage on the flights. flights, phone calls, internet, laundry and other personal expenses.
Advance payment in USD950.00 (equivalent to 50%) after completing the registration within the period before Nov. 15, 2023
Billing Information For trip participants outside of Vietnam, please contact local Sangha coordinators. You may want to make arrangements for payments as a group to save on transfer fees.
Bank Details
Bank Name: Standard chartered Bank
Bank A/c Holder Name: WOW INDIA TRAVEL & TOURS PVT LTD
Bank A/c Number: 53105129113
IFSC Code: SCBL0036025
Swift Code: SCBLINBBXXX
Bank Branch Address: DLF GURGAON, BUILDING NO 7A, GROUND FLOOR, DLF CYBER CITY, PHASE-3, SECTOR 24/25/25A, GURGAON,122002
Note: PV Asia 2024 India Trip
Language: Vietnamese is the main language used in the trip, with simultaneous translation into English.
IMPORTANT INFORMATION ABOUT TOURIST VISA INTO INDIA

For people applying for a tourist visa into India in Hong Kong, please note that –
People having signed up for the pilgrimage are advised to apply for a tourist visa

as soon as possible

as it takes time.

Applicants have to apply for the tourist visa IN PERSON at the external service centre appointed by the Indian Consulate General.

Before showing up at the external service centre, the applicant must submit an online application, and book an appointment with the external service centre.

Currently,

HKSAR passport is not accepted for the application for a tourist visa into India

.

 

Holders of other passports may either check with (a) the online application website (by first selecting CHINA-CHINA as the mission, then select the passport issuing country and the passport type) to see whether TOURIST VISA is an available option for application, or (b) check with the passport issuing authority for the tourist visa requirement into India.
For details about the application procedures (including where to fill in the online application and the appointment and location of the external service centre), please visit the official website at https://www.cgihk.gov.in/page/passport-services/
Enquiry: hpttlm@gmail.com